Course Details
'HAVE A GO' Clayshooting!
Bring a friend/s at £30.00 per person plus 25 Clays & Cartridges.
Basic introduction up to four people.
Instructional Lessons
£30.00 / session (minimum one hour) plus cartridges and Clays.
The CPSA Academy shotgun skills programme.™

This innovative course is designed to introduce individuals and small groups to the basics of clay shooting, and to quickly progress those who are keen to achieve more.



Module 1 - Discover Clay Target Shooting™
£40.00 plus Cartridges & Clays, approximately £14.00/25
This is a short "taster" module, lasting 1.5 – 2 hours. It's an uncomplicated and enjoyable way to be introduced to the sport and is ideal for individuals, couples, families or small groups.
Module consists of:
Welcome.
Shotguns, the basics.
Safety.
Shotgun handling.
How to break a target (CPSA method).
Practical on range.
The next step.
On completion, every student receives the CPSA Academy Discover Clay Target Shooting diploma.
Each student has their participation recorded in his or her own CPSA Academy Qualification Logbook.
Shotgun, eye and ear protection is supplied on the day.
The CPSA Academy shotgun skills programme.™
This comprises of the Discover Clay Target Shooting (module one) plus more detail (module two) to become Shotgun Skills Course
Full Course (both modules) £60.00 plus cartridges & clays (approx: £14.00 / 25)
Short Course (module 2) £40.00 plus cartridges & clays (approx: £14.00 /25)
NOTE: Students must have completed module one Discover Clay Target Shooting before enrolling in module 2
This course offers you the opportunity to learn more about shotgun handling, safety and shooting technique. At the end of the course, you'll understand the importance of gun fit, know your own eye dominance and know how to shoot using the "CPSA Method" across a variety of targets, with a solid knowledge of safety issues. This course is directed towards the individual who has or is about to acquire a shotgun.
The full course is 4 hours plus and can be spread over a day, if only module 2 then it is about 2 hours.
Full course consists of:-
Module one "Discover Clay Target Shooting".
CPSA method in detail (on & off range).
Safety review.
Shotguns types and choice.
Cartridges and Proof.
Gun Cleaning.
What discipline do you want to shoot?
On completion you will receive your CPSA Academy Shotgun Skills diploma and pin badge which shows you can handle a shotgun safely and without supervision. It will be recognised by CPSA affiliated shooting grounds.
Your achievement will be recorded in your qualification record book.
Accompanying the courses is an excellent book, one of the best reference books on Clay Shooting I have ever seen. The C.P.S.A. 'Clay Target Shooting Handbook is available as a free download on the CPSA website.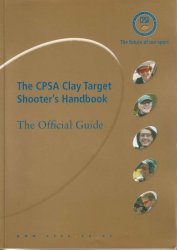 ™All trademarks are copyright of their respective owners!